Here's a tough pill to swallow for many entrepreneurs—only 30% of businesses make it past the 10-year mark while a half of businesses do not cross the 5-year mark. While you will find online lists stating numerous reasons why businesses are not thriving, the answer boils down to one sentence — lack of a robust business strategy.
Strategy starts with having a strong and clear vision for your organization and how it intends to grow. This is why an effective positioning statement is vital. Every major decision that you make in your business should borrow from your positioning statement to ensure it's in alignment with both your goals and your values.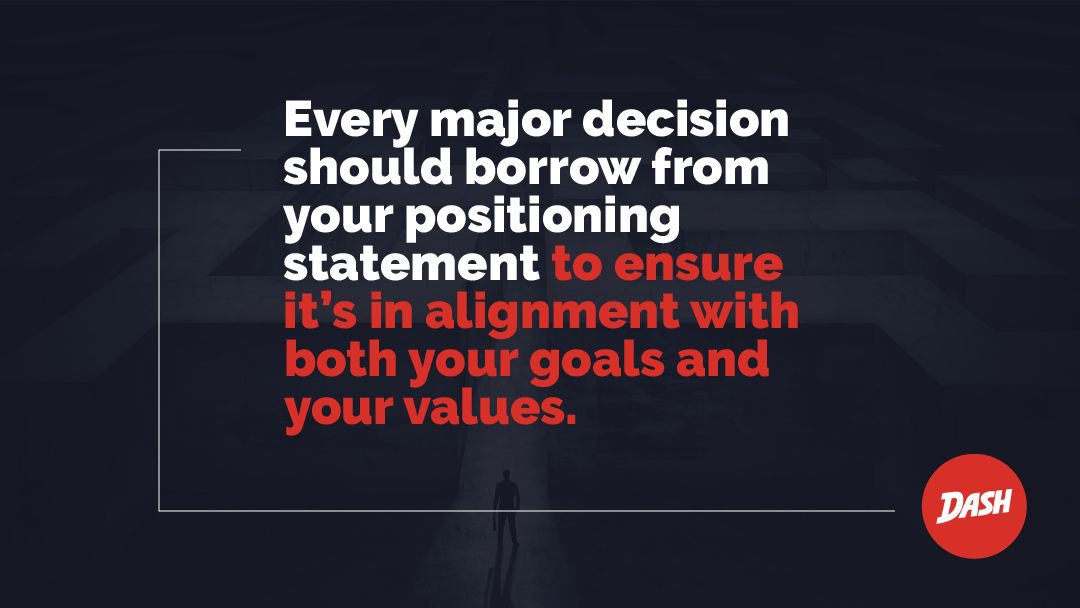 So, what is a positioning statement?
A positioning statement is a sentence or paragraph that clearly defines what you do (market category), your unique feature (differentiation), your target customers, and how your product benefits your target market (brand promise). The best positioning statement creates a clear brand perception in the mind of your ideal customer.
In this article, we dissect 6 positioning statements examples and why they are or are not ideal. We also outline the steps you can follow to create a winning positioning statement and breathe life into your business!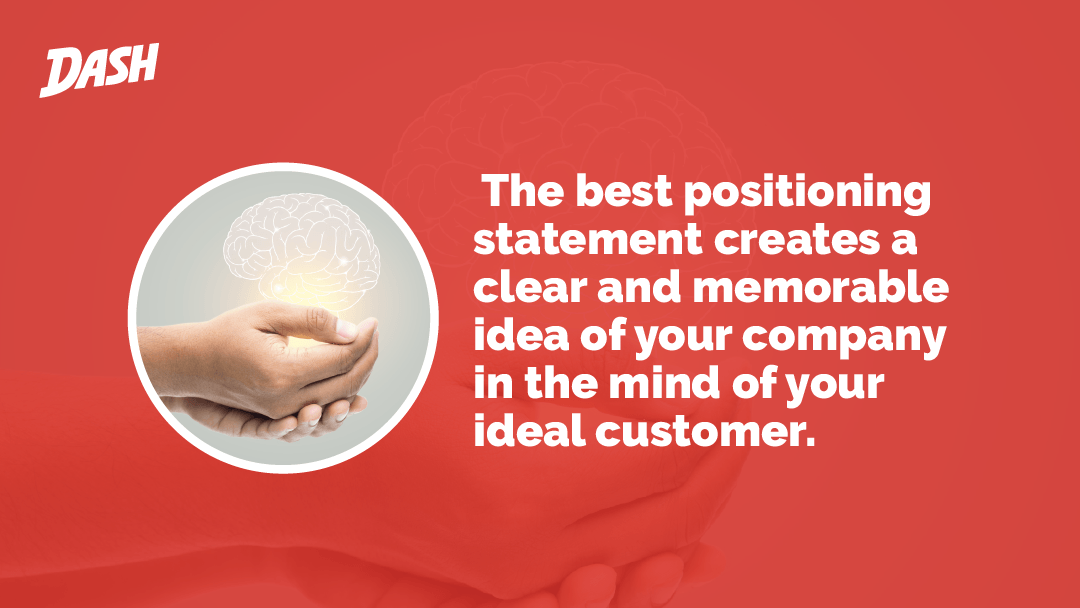 4 best and 2 worst positioning statement examples
4 best positioning statements
These four companies represent some of the most popular brands in the world. Let's learn from the best:
Positioning statement: "Kennedys is an international law firm with expertise in litigation and dispute resolution particularly in the insurance, reinsurance, and liability industries."
Why this works: It is differentiated according to niche and services offered
One of the elements that make a positioning statement highly effective is the differentiation factor. Kennedys law firm does this tastefully.
Kennedys explicitly states its services as "litigation and dispute resolution" with its target market being liability industries and insurance/reinsurance industries. This differentiation helps set it apart from the herd.
2.   Lester +Company P.C
Positioning statement: "Expert accounting services and ERP solutions for restaurant chains"
Why this works: It is niche-specific
Lester + Company P.C was a financially desperate generalist accounting services firm. Back then, it served any and every business that required accounting services. This kind of strategy (or lack of it) wasn't giving it the success it needed in a very competitive accounting services industry.
After rebranding, Lester + Company P.C decided to focus on its biggest strength—serving restaurant companies. This move saw them grow much faster. Restaurant clients who were previously hesitant about hiring their services now found them an ideal match.
The company has specialized software for restaurants, Tablespoon. Even more, Lester + Company P.C only hires personnel that are passionate about the restaurant industry, giving their business more credibility. The company also goes beyond accounting, providing services that help restaurant businesses grow their profits through its cloud solution, Sage Intacct.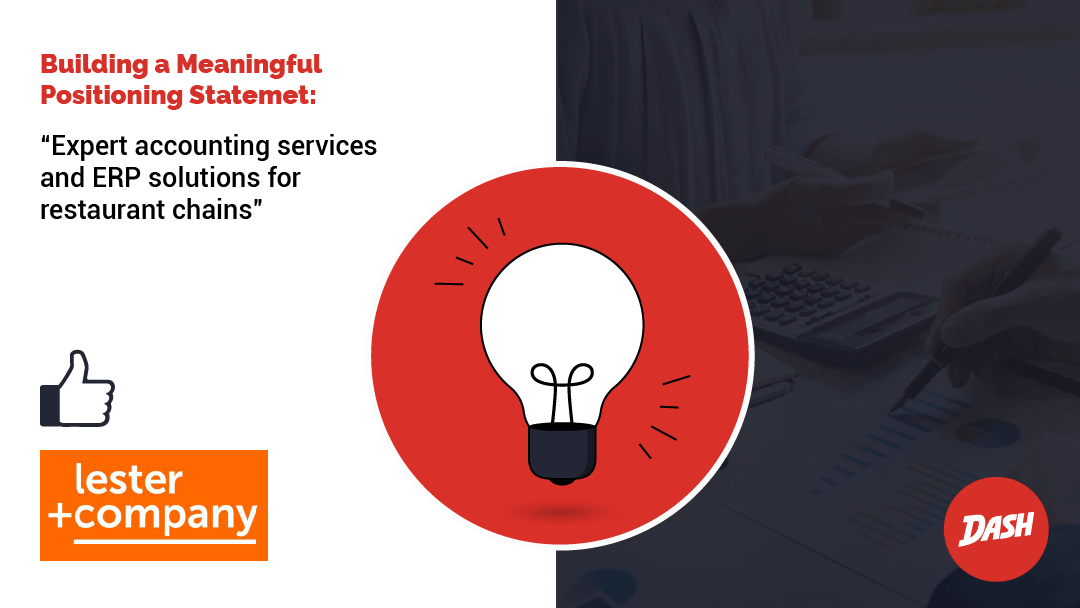 3.   BOLDT Co.
Positioning Statement: "We've been building since 1889. You'll find Boldt's work from coast to coast—from universities and hospitals, to mills, manufacturing and renewable energy. Buildings that bring lasting value to the communities they call home. We're bold thinkers. Fearless innovators. And we'd love to partner with you to build something valuable."
Why this works: It is transparent and emphasizes its core differentiators which are customization and innovation
BOLDT is an architectural services firm. While Boldt doesn't specialize in building in any one sector, its culture of innovation and working with the customer to create customized structures sets it apart from the crowd. Another strength of Boldt's company positioning statement is that it includes an element of transparency; its years of expertise (since 1889). Transparency helps to create a powerful positioning statement as it inspires trust in potential customers.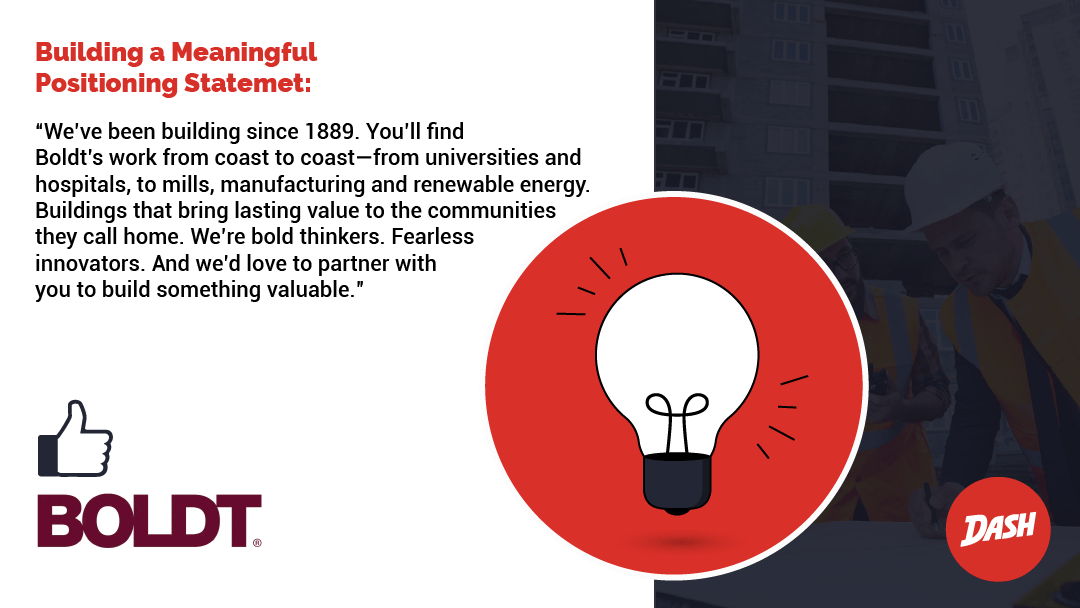 4.   Starbucks
Positioning statement: "Authentic Coffee, Great Experience, and Quicker Delivery"
Why this works: It focuses on customer pain points
Starbucks founders—Baldwin, Siegel, and Bowker discovered that coffee lovers were not happy with the existing inferior quality coffee. People wanted authentic coffee beans, which were unavailable. Being coffee lovers, they opened a shop to sell authentic beans to a small niche market. People loved their coffee and spread the word to others.
While their former positioning statement was "authentic coffee", Starbucks evolved with customers' needs and attitudes.
Howard, who joined Starbucks later on, initiated research that found out that coffee takers liked to have a particular "experience" when taking coffee. He watched Italian coffee lovers who preferred to take their coffee in espresso bars where they enjoyed exceptional customer service, personal interactions, and soothing music. That is where the idea of Starbucks stores where people could converge and have "an experience" came to life.
In his research, Howard also noted that office-going customers wanted quick services. All this new research led to their new positioning statement, "Authentic Coffee, Great Experience and Quicker Delivery"
Starbucks is a successful international company with over 14,000 locations in the US and many more locations in over 7 other countries.
2 worst positioning statements
While some positioning statements are inspirational, some are disastrous. Here are 2 positioning statements and why they failed:
1. Eversheds Sutherland law firm
Positioning statement: "Providing quality, innovation, and consistency in legal service delivery around the globe from 68 offices in 32 countries."
Why this doesn't work:  It is much too vague.
While Eversheds Sutherland does try to gain from the credibility that comes with listing a company's locations, its positioning statement is too vague. First, words such as "quality" and "best" are overused and have little to no impact on how customers view a company.
Second, the ambiguity of the above positioning statement would leave potential customers wondering what kinds of legal services the company offers, to whom, and in which countries.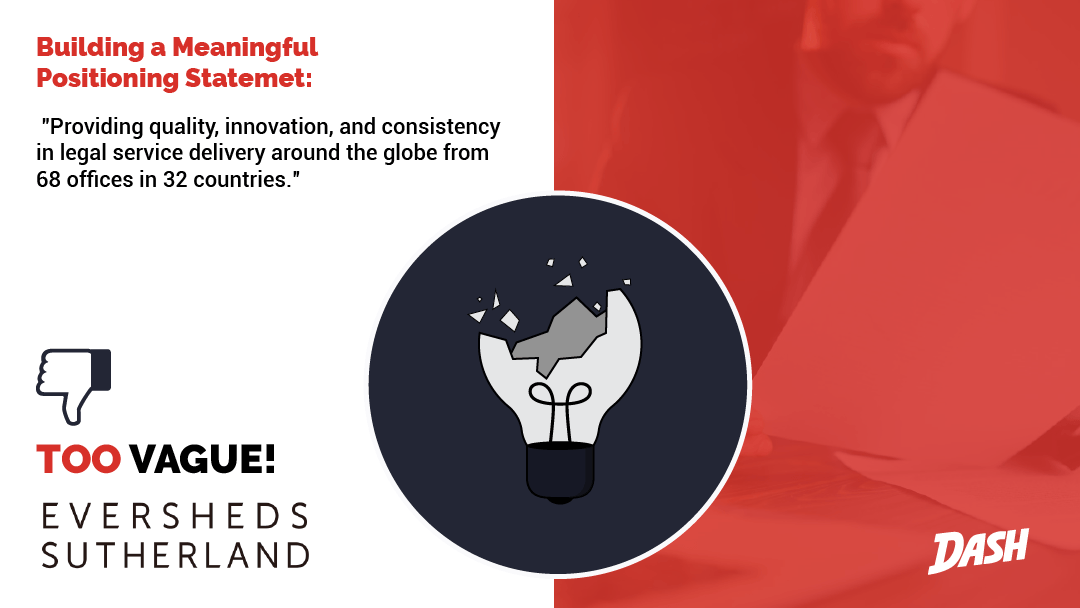 2.   Blackberry
Positioning statement: "To busy mobile professionals who need to always be in the loop, Blackberry is a wireless connectivity solution that allows you to stay connected to people and resources while on the go more easily and reliably than the competing technologies."
Why this doesn't work: Doubtful positioning
Blackberry had an impressive positioning statement (although its mission statement was product rather than customer-oriented). Blackberry, however, failed to live to the expectations of its positioning statement, what is called doubtful positioning.  While Blackberry toppled other brands like Apple back in the day, it erred by focusing more on its product rather than what customers wanted.
Being a B2B business, Blackberry forgot that its actual customers were not the companies it was selling to, but the customers who were buying their products. It was no surprise when Apple overtook Blackberry with more advanced mobile technologies. Blackberry tried to follow suit but eventually failed for lack of innovation.
How to create your own positioning statement
Now that you know what the best and worst positioning statements look like, how do you borrow from these examples while avoiding mistakes that could cost you your business? Here's how:
Analyze how your brand is positioning itself right now
What is your current market position? How have you differentiated yourself from your competitors? If your statement sounds vague and directionless or you lack one altogether, buckle up for some serious market and competitor research.
Identify your customers' pain points
The strength of a positioning statement is in having a specific target market. To achieve this, you must list down your customers' pain points. You can find out what your customers want through methods such as conducting surveys and checking out relevant Q&A forums.
Know your direct competitors and how they are positioning their brand
If you want to create a positioning statement that will keep you in business for years to come, study your competitors. Who are your main competitors? How are they positioning themselves?
To make the research process easier, begin by creating a list of your competition and their positioning statements.  You can discover competitors' positioning statements by looking for consistency in brand messaging on their website, social media pages, and marketing materials. Check whether and how your competitors are meeting your list of customer pain points to identify any unmet customer needs that you can use to niche out.
Write your positioning statement
Once you have figured out a niche market, it is time to write down your positioning statement. What should you consider when writing your positioning statement? Your positioning statement must have these ingredients:
A specific target audience
You must know WHO your customers are. Saying "mothers" is much more effective than saying "women". Using the word "teenagers" in your statement will have a much higher impact than "young people".
Kennedys law firm is one of the few UK law firms that differentiates itself in terms of services offered and customers served. The law firm ranks in the top 30 in the Lawyer UK 200 firms.
Focus on customer pain points, not your product
Blackberry's failure was largely due to its focus on its product. So engrossed was Blackberry in its success that it didn't care to know what its customers wanted, giving its competitors a chance to overtake it with innovative technology.
Starbucks, on the other hand, understood customer pain points. Even after registering success with its take-home authentic coffee, Starbucks dug deeper to identify customer needs, which helped them remain relevant by establishing coffee joints and including delivery services.
While you may be tempted to list all your business features and their benefits, it pays to focus on one feature that clearly differentiates you from your competitors.
Kennedys law firm proves that specialization doesn't make you lose out on business. While the law firm is excelling in more than 15 practices, it sells itself as the go-to firm for insurance and liability companies, making it much easier to attract specialized clients.
Eversheds Sutherland law firm fails by attempting to market all its services in a single statement.
Show how your brand benefits the customer (brand promise)
A winning positioning statement clearly states HOW your product meets the needs of your customers. You can state how specific features of your product tackle particular target market pain points, focusing on how you differentiate yourself from your competition.
Lester + company P.C, for example, promises not just customized accounting for its restaurant clients, but also tools that ensure profitability. It fulfils its promise of profitability using the Sage Intacct cloud solution for restaurants, which helps its clients manage costs, discover trends, and ultimately increase profitability.
Accommodate future changes in the market
Your positioning statement should not be cast in stone. Get into a culture of conducting research and updating your statement to reflect shifting market trends. What works today may not be of value to customers tomorrow.
Boldt architectural company is a great example of what a future-oriented positioning statement looks like. Boldt positions itself as an open-minded business committed to making bold moves (as its name suggests) to meet customer-specific needs through innovation and customization.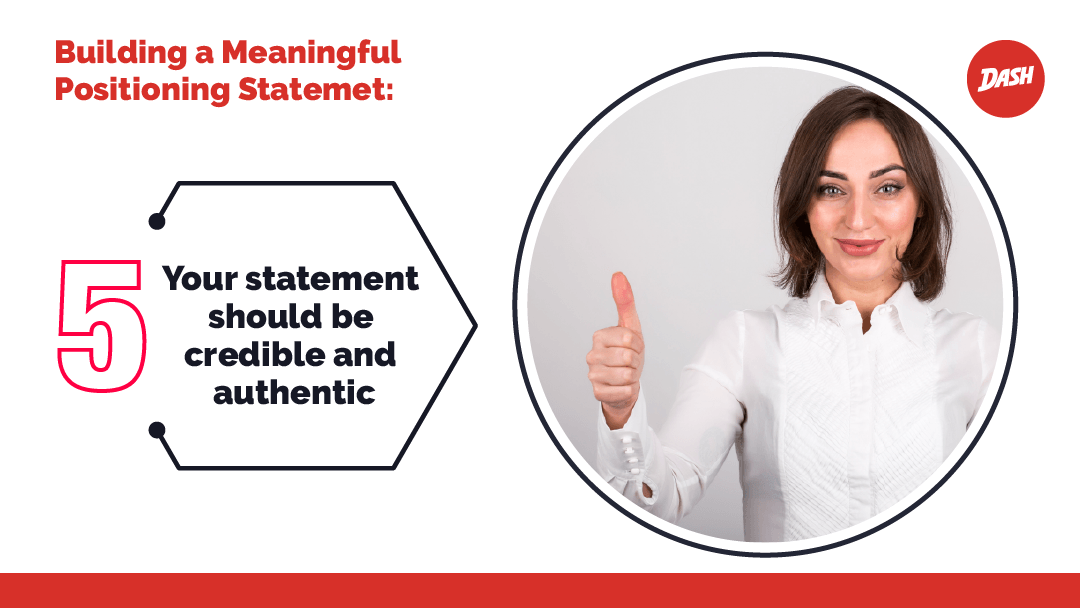 Your statement should be credible
Before you get your positioning statement out there, ask yourself, "Can I truly deliver on what I have promised or is there someone doing it better than me?"
If there's someone else doing what you have promised better, your positioning statement becomes doubtful and you lose your customers' trust.
Blackberry made the mistake of promising but failing to provide customer-focused phones. The B2B phone company was too product-focused to perceive changing customer tastes and preferences hence its fall.
Make it short and memorable
It helps to go straight to the point when you are positioning your product. Too much detail can lead to a complex positioning statement which turns customers off. When your target audience visits your website, make it easy for them to know what you are all about.
Starbucks and Lester + Company P.C follow this trend quite well. Their positioning statements are only one-sentence long, clearly stating their services and target customers.
A positioning statement should inspire trust and confidence in your customers. Statements that contain aspects such as years of experience, locations served, company achievements, awards received, and the like; are stronger.
How do customers perceive your brand?
Brand positioning is the life of your business.  Your positioning statement guides your entire marketing strategy including the marketing channels you use to reach your target audience. To come up with a winning positioning statement, start by analyzing the strength of your current positioning statement. If it doesn't cut it, devote time and effort to competitor and market research. Remember to adapt your positioning statement with market trends. If you have trouble coming up with a positioning statement, you can consult a marketing professional to help you figure it out.
Frequently asked questions
How do I evaluate my brand positioning statement?
If you are a marketer wondering how effective your brand statement is, here are 3 criteria to evaluate your brand statement:
Does it include a unique benefit that solves your customers' problem
If you don't already have a list of problems that your target audience experience, start by creating one. Having a list of pain points is important as it helps you position yourself to meet a specific need and establish a sure market. You can identify customer problems in several ways, including surveying customers and getting feedback from your sales team.
Are you differentiating yourself? If not, you will suffer longer sales cycles and inconsistent revenue for your business. To know if your positioning statement is unique, check out your competitors' positioning statements. You can find it on their website or other marketing materials such as email campaigns and press releases.
Do you include your positioning statement in your marketing efforts?
Having an awesome positioning statement doesn't qualify you to occupy a specific position in your market. If you want to claim a particular position, you have to include your positioning statement in all your marketing efforts. The constant repetition of your positioning statement is what will make your brand stick in the minds of customers.
What are the 4 elements of a positioning statement?
The 4 elements of a positioning statement are:
Target market – Define a target market by criteria such as age, income, geographical location, pain and needs, and the like.
Market category – Putting yourself in a category helps customers understand what you do. Examples of categories include accounting services, film services, and marketing Software Company.
Differentiation – Identify a unique feature that separates your business from your competitors'.
Brand promise/payoff – Brand promise touches on customer pain points and states the particular benefits that your customers get from using your product.
How do you write a positioning statement?
To write a positioning statement, you must include all the 4 positioning statement elements. Here is a template of a positioning statement:
[Your brand} is a [market category] that provides [your differentiating factor] to help [target market] achieve [brand promise].