Technology is evolving across every business sector, increasing productivity and efficiency while giving forward-thinking companies a distinct competitive edge. Professional service organisations are not immune to this shift. If they want to deliver exceptional value to their customers and clients, firms need to address their digital strategies and find ways to maximise new and emerging technologies.
We've talked before about how a successful digital transformation leverages goal-setting, brand positioning, and internal and external benchmarks to get your professional service organisation where it digitally wants to be. Why, then, are digital transformations still lagging or failing? Common reasons include reluctant leadership and low employee engagement. One of the most significant factors, though, for slow adoption is companies being too focused on immediate results.
The term "digital transformation" might have a bit to do with it. "Transformation" seems to imply a sudden, radical metamorphosis from one state to another. But instead of a big-bang change, it's better to view digital transformation as more of a transition. By keeping expectations realistic on digital strategies like differentiation and positioning, you can find new ways to set your firm apart and significantly improve your clients' lives.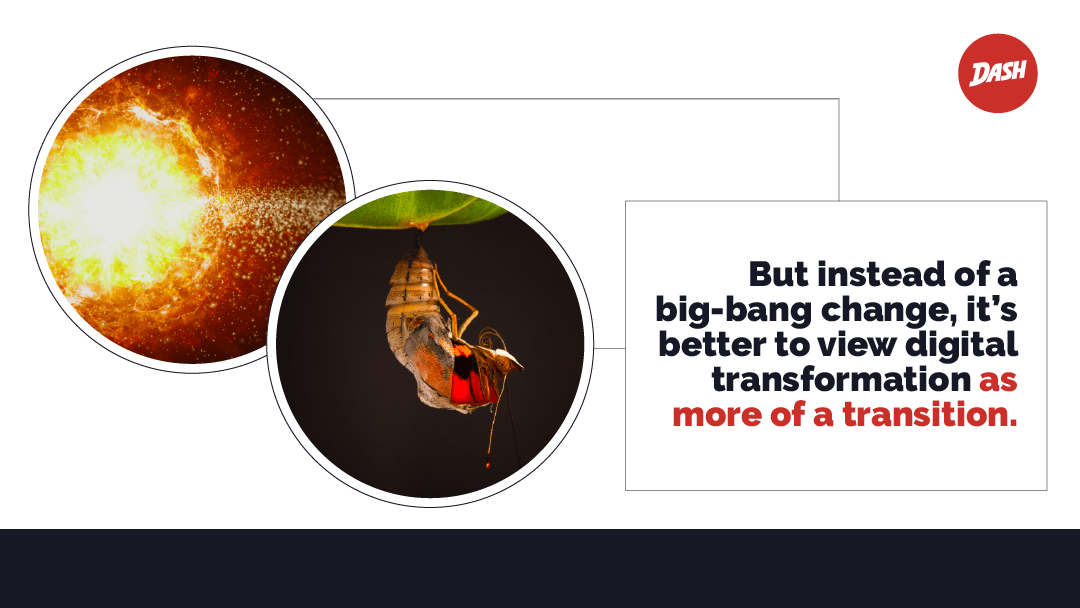 What is a Digital Transformation Strategy?
Digital transformation is about looking at your organisation's service delivery and communication processes as well as its internal mechanisms to identify where manual processes can be improved upon and made more effective through digital solutions. A digital transformation strategy provides direction on how to transform your existing processes so that you provide optimal client service.
There are five areas professional service organisations should consider when developing a digital transformation strategy that positions their firm for success.
Secure, stable, and scalable technology that aligns with chosen digital approaches such as cloud or SaaS (software as a service) applications.
How to improve operational efficiencies and minimise administrative burdens, particularly if your firm has or is shifting to a remote workforce.
Data analytics and reporting can accelerate a firm's digital journey, so you need to find a way to aggregate and consolidate data sources that help you identify problem business areas.
Every professional services organisation needs to deliver a consistent and compelling customer experience. Automating manual tasks simply processes and implementing digital platforms are just two ways to do this.
How technology can be used to attract and retain quality talent.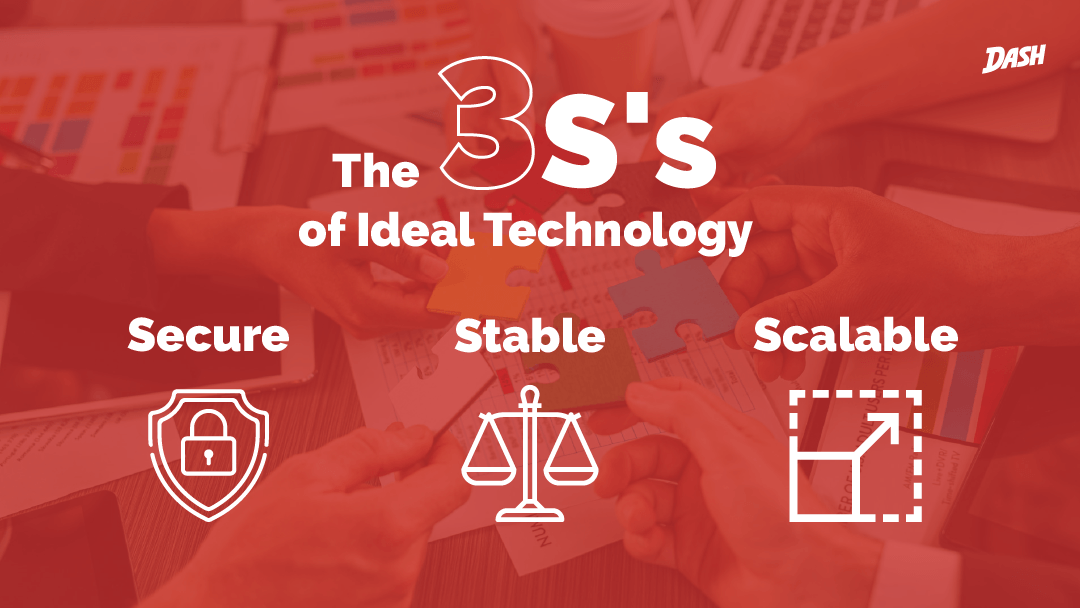 Professional services organisations are uniquely positioned to harness digital technologies like AI to automate routine tasks and free staff to focus on higher growth-related priorities. Available technologies make it much easier to achieve the agility necessary to be more responsive to your customers' needs. It also helps you anticipate change and react faster than your competitors. Implemented wisely, digitalisation can:
Transform your business.
Keep it up-to-date.
Help it maintain a dominant market position and compete against even large or more established firms.
Marketing-Related Aspects of Digital Transformation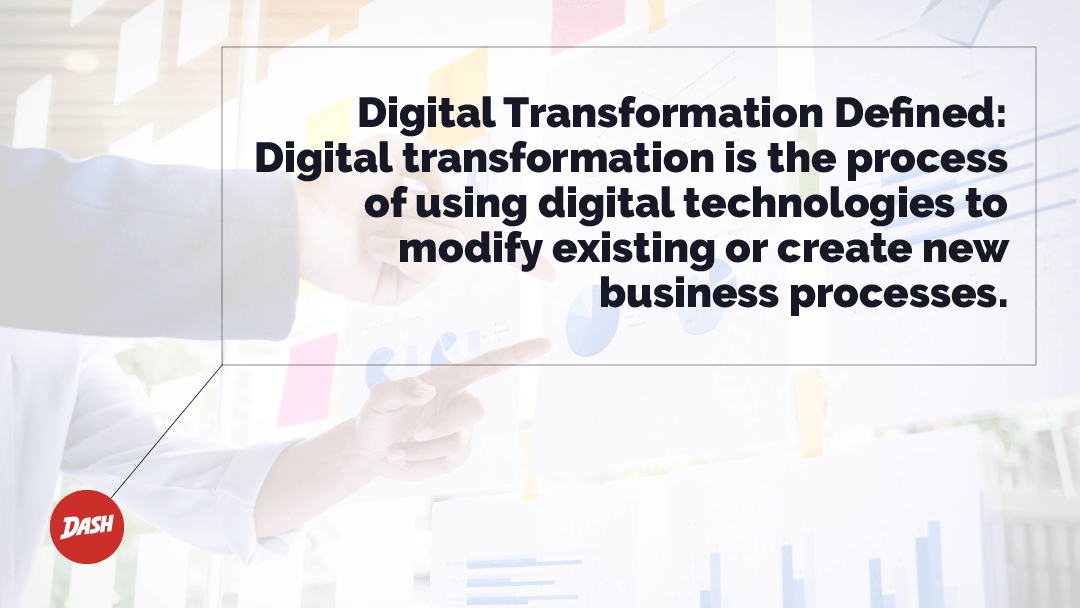 One of your core business processes is its marketing strategy. You can use digital technologies to speed up or automate those processes while guiding you on defining your market and identifying your place in it. With the right digital tools, you can:
Reimagine and reinvent your services to meet ever-evolving customer needs and demands.
Use data to target your existing and potential audiences where they hang out online.
Highlight the benefits that differentiate your brand and give people a reason to choose your firm over all others.
Two good examples of how digital technologies can strengthen your marketing efforts are lead capturing and lead nurturing, where a couple of things must happen.
When someone visits your website and responds to a content offer by sharing their information, you capture them as a lead.
You must then nurture that lead to develop and reinforce relationships with your audience.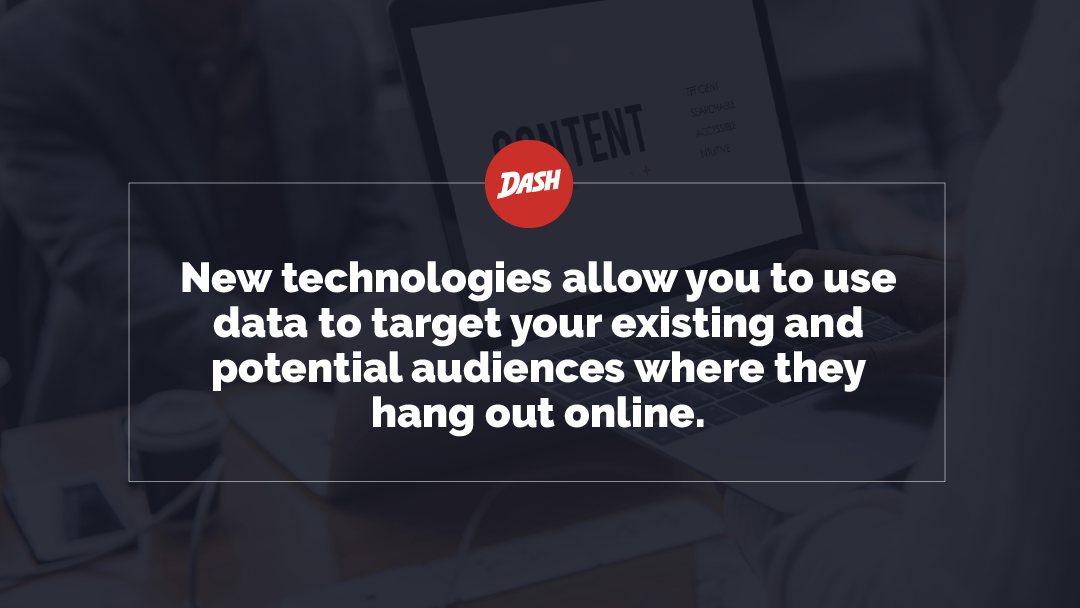 Technology systems make it a lot simpler to capture and securely house that data. Sales and marketing teams can easily access it to follow up with leads on a timely basis, send personalised emails, and use multi-channel lead nurturing techniques that offer people valuable and relevant insights that drive action.
Digital transformation is the process of using digital technologies to modify existing or create new business processes. So, how can you leverage it to change how your professional services organisation thinks about and engages with its customers?
First, it's understanding that digital transformation begins and ends with your clients. Every digital tool and technique you use must add value to every customer interaction. For instance, marketing automation lets you fashion customer-centric experiences by personalising and tailoring messages to individual client needs. Marketers can use digitally sourced data to create campaigns and content that are delivered to the right audience at the right time.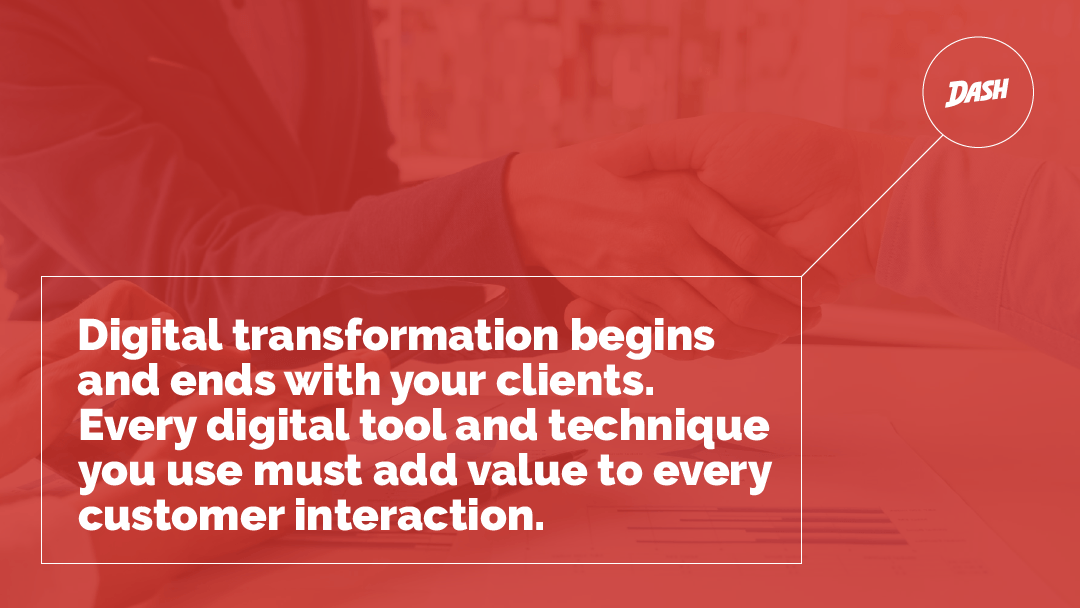 Other ways automation benefits marketers include:
Reducing the effort and time it takes to deliver marketing campaigns and improve campaign results.
Enabling marketers to use customer engagement opportunities with personalised and quicker responses at scale.
Anticipating customer expectations to optimise marketing campaigns according to those expectations.
Improving personalisation strategies to create more long-lasting customer relations, drive more engagement, and revenue from campaigns.
Identifying and anticipating when customers will retain your services so marketers can push those leads to sales teams to target with follow-ups, relevant content, and offers.
The bottom digitised marketing line: When you use software and other digital technologies to speed up your marketing processes and make them more efficient, you're in a much better position to deepen client relationships in a way that can be scaled more effectively.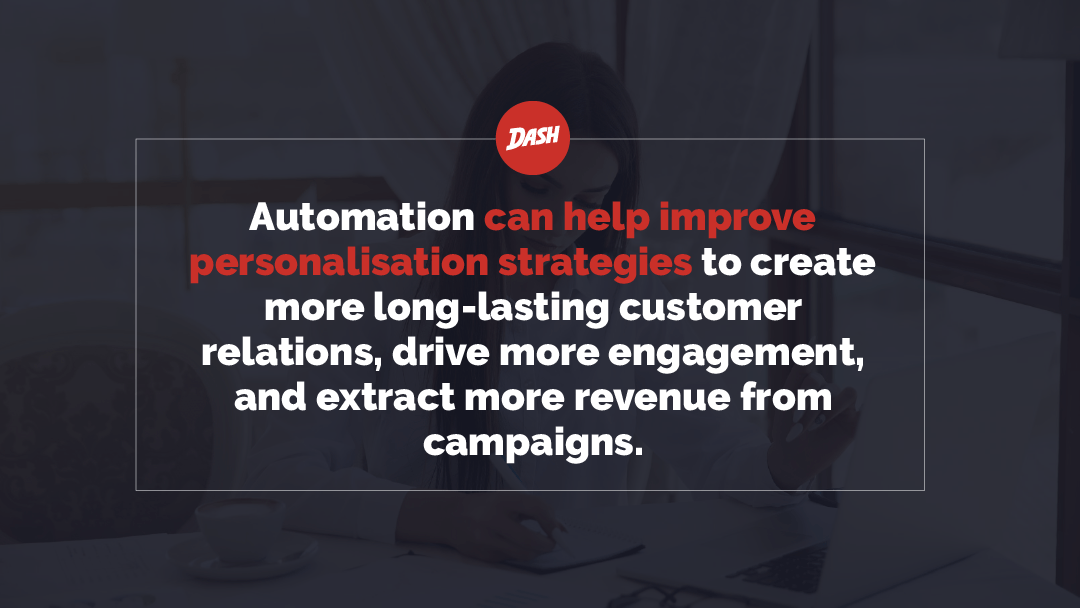 Before implementing marketing automation, you've got to put in place a strong digital transformation strategy. Read on to learn how.
Building a Strong Digital Transformation Strategy
Few professional services organisations have ten or more marketing and sales staff who can go through manual spreadsheets, follow-up with leads on the phone, and perform other manual marketing and sales tasks. A technology system that captures and stores leads makes it possible to compete on a level you could not otherwise achieve.
If you want to digitally evolve your organisation, here are the five principles or rules to help you do it.
Strong leadership vision and commitment can be the difference in whether your digital transformation efforts succeed or fail.
Create business value early on by investing in and implementing "low hanging fruit" initiatives like automating manual processes and solving common employee complaints about routine products, sales, marketing, and customer activities.
Identify who your target audience is and look at their entire journey, both current and future.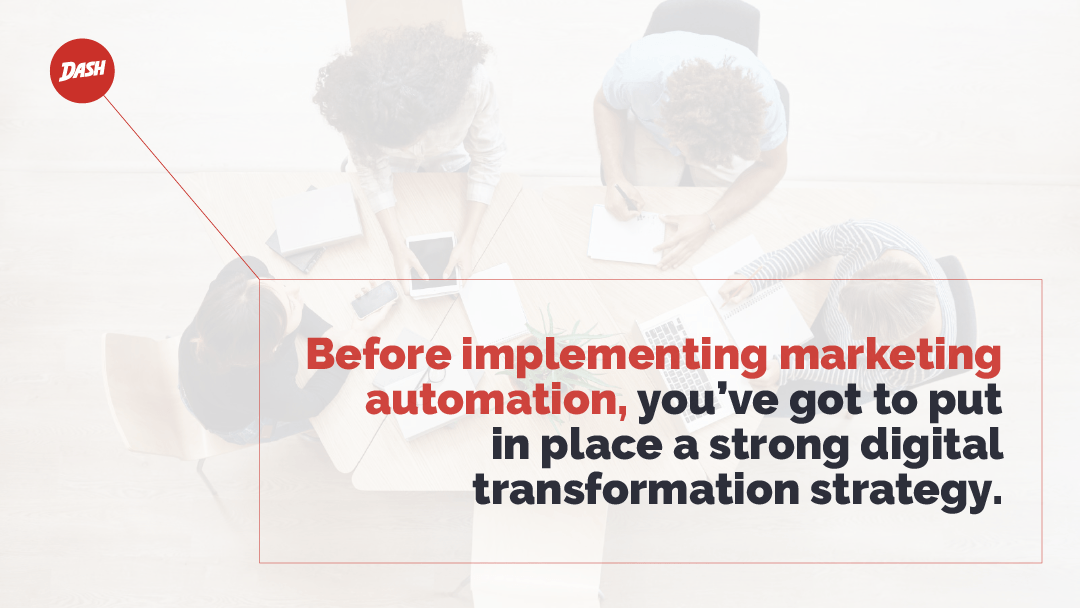 Learn how to break silos so you can explore ways to add new capabilities, products, and services to your offerings.
Focus on service-market fit. What does that mean? Many digital transformation initiatives fail because the organisation puts the emphasis on the digital aspect, not the transformation one. It's important to see the process as a transformation enabled by digital.
How to Effect the Digital Changes You Desire
Creating a digital transformation isn't easy. Doing it successfully depends on internal and external factors that vary from one organisation to the next. But digital advances have the power to revolutionise your professional services organisation, promoting growth and helping you refashion your services so your clients can better execute their own visions.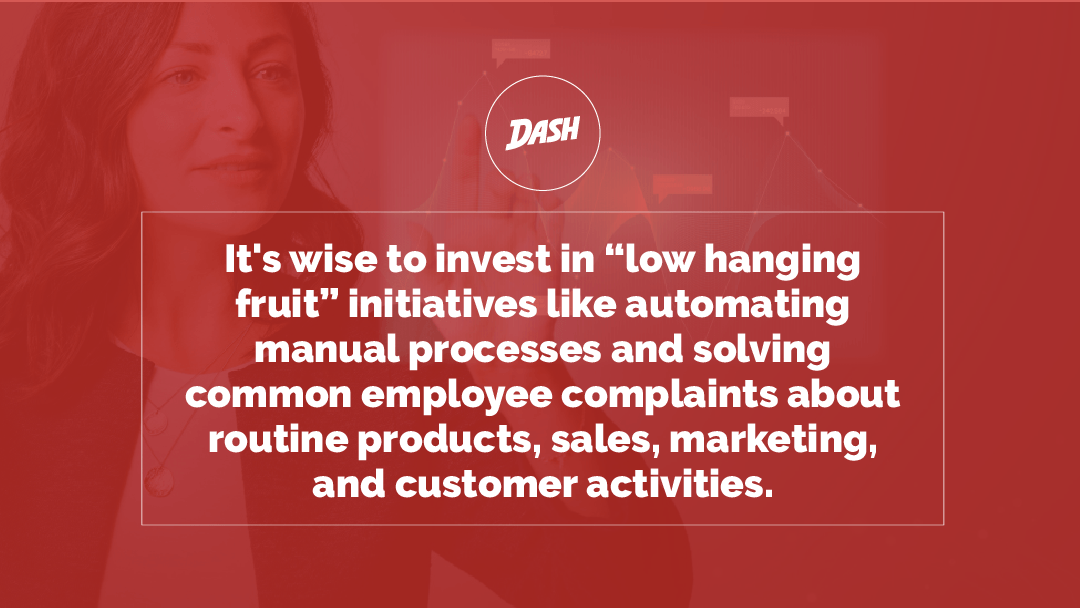 Here are six steps your organisation can follow to achieve the kind of digitally-driven change you desire.
Align business objectives with business goals. What business outcomes do you want to achieve for your customers and clients? Start by identifying the problems you're trying to solve and then align your goals with the results you're striving to achieve. Use your buyer's journey map as a guide.
Dare to be bold when establishing the scope. Digital transformations that are enterprise-wide in scale tend to be more successful. Thinking big can help you get the biggest bang from your tech investments.
Encourage collaboration. Everyone in your organisation should be involved in your digital transformation efforts. Otherwise, you end up with solutions that don't necessarily address your clients' concerns and problems.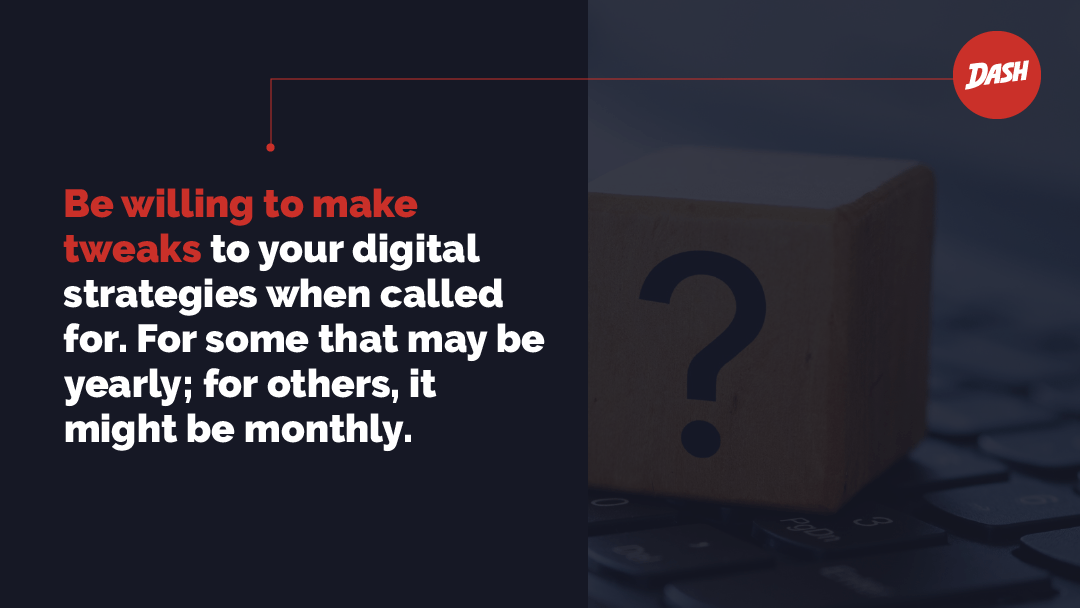 Embrace adaptive design. That simply means being willing to make tweaks to your digital strategies when called for. For some organisations, that can be a yearly task; for others, it might be monthly.
Adopt agile execution. Digital marketing might have precise goals, but the way you utilise it changes constantly. Providing world-class experiences for your clients is all about adapting to change in their sentiments, devices, and market dynamics. By taking calculated risks and focusing on targeted campaigns based on incoming data, your efforts are more productive because you don't waste time on ineffective marketing efforts.
Go ahead—disrupt yourself! While digital tools give you a competitive edge, the best digital transformations also look within. That means taking proactive steps rather than just reacting to competitive pressures. A mixed-bag approach to marketing helps you identify your current sources of profit and explore uncharted markets.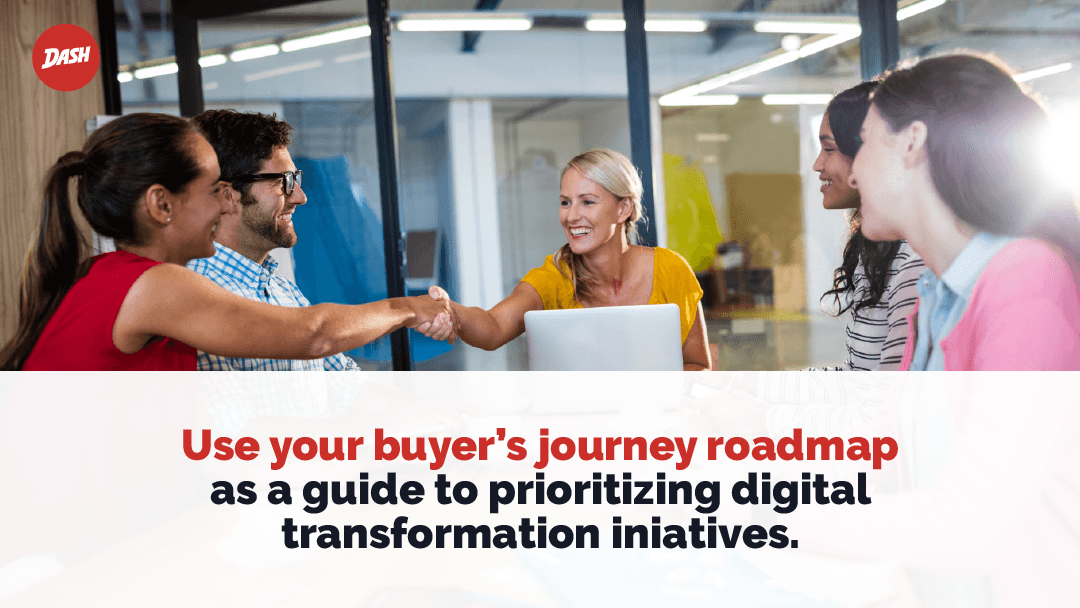 There are countless other ways to use digital innovation to update your business operations and processes, including digital marketing. For professional services organisations, it's about adapting to their specific "new reality." You want tools that can protect your current position while helping you accelerate growth and success.
Preparing Your Firm and Its Clients for a Digital Reality
The underlying purpose of any professional services organisation's digital transformation is to adapt to the world they and their clients live in. Digital technologies are assets you can use to grow your company and improve your clients' lives by eliminating pain points and reducing friction.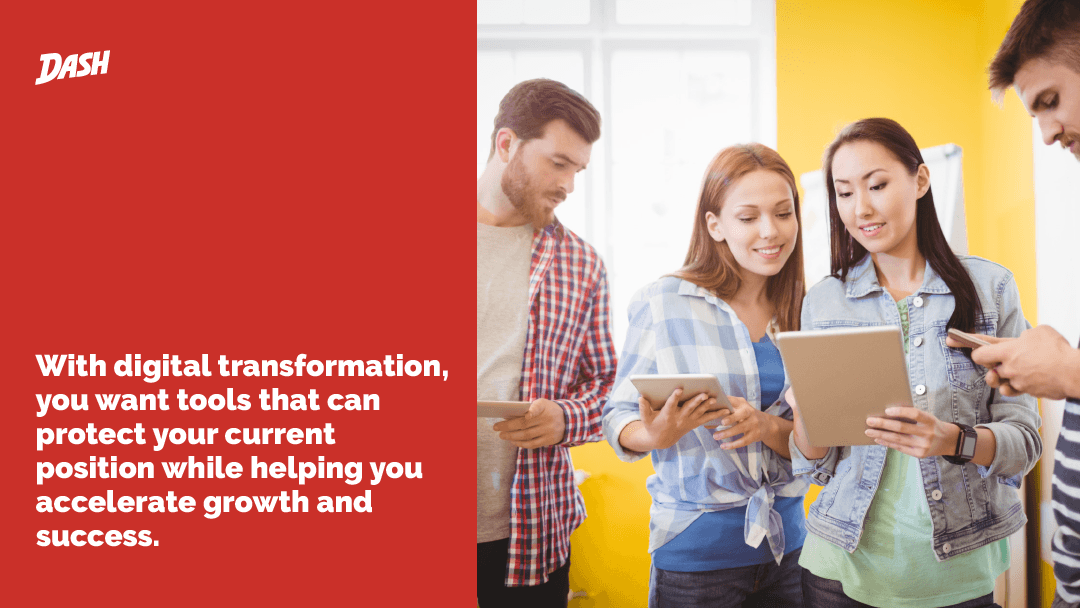 By establishing the right technology-enabled processes, including digital marketing, in place, your organisation can:
Adapt swiftly to support your clients.
Help clients connect the dots between risk and opportunity.
Better meet client expectations.
Improve employee experiences and productivity.
Professional services organizations thrive because they've built a business that offers specialised skills, expertise, and knowledge to their clients. Digital innovations are not only changing how they deliver their services but fundamentally altering what their clients expect from them.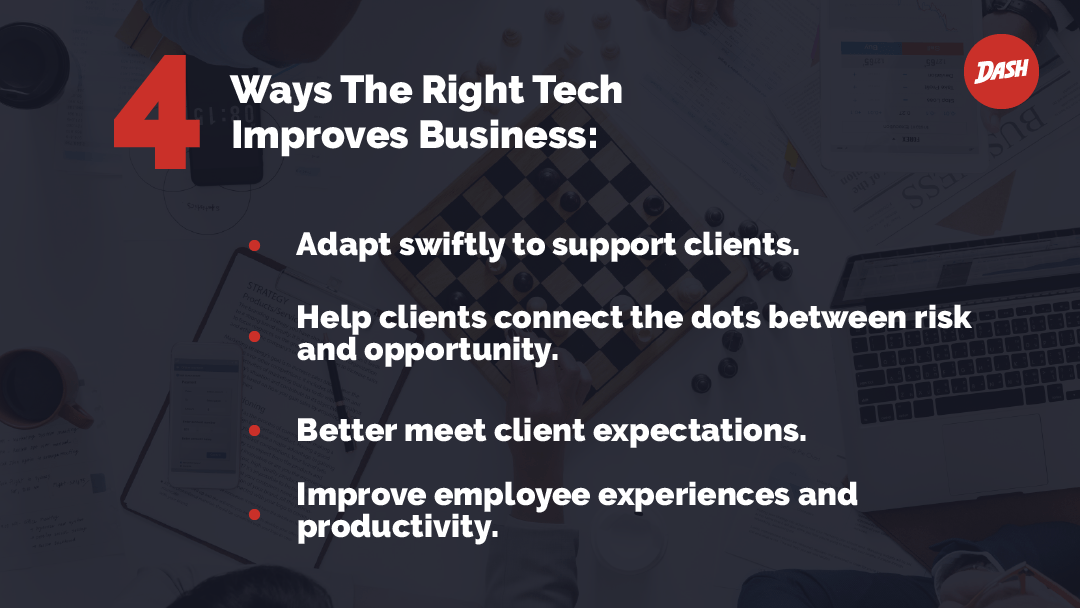 There are definite upsides to automating routine processes. It can help you lower costs and enable you to spend more time helping clients achieve higher-margin activities. Your professional services organisation can benefit from conducting a digital assessment to identify areas where you can use new technologies to stay competitive in your market.
Digitising key processes across your organisation makes it more agile and streamlined and frees up talent to focus less on manual tasks and more on meaningful work that propels your business forward. Isn't it time to take the first step to becoming the first choice in your market?