Coming up with a definitive answer to the question, "what is business development?" isn't easy, but here's our take:
Business development encompasses a broad range of ideas, initiatives, and activities that lead to one goal—creating growth for your professional services organisation.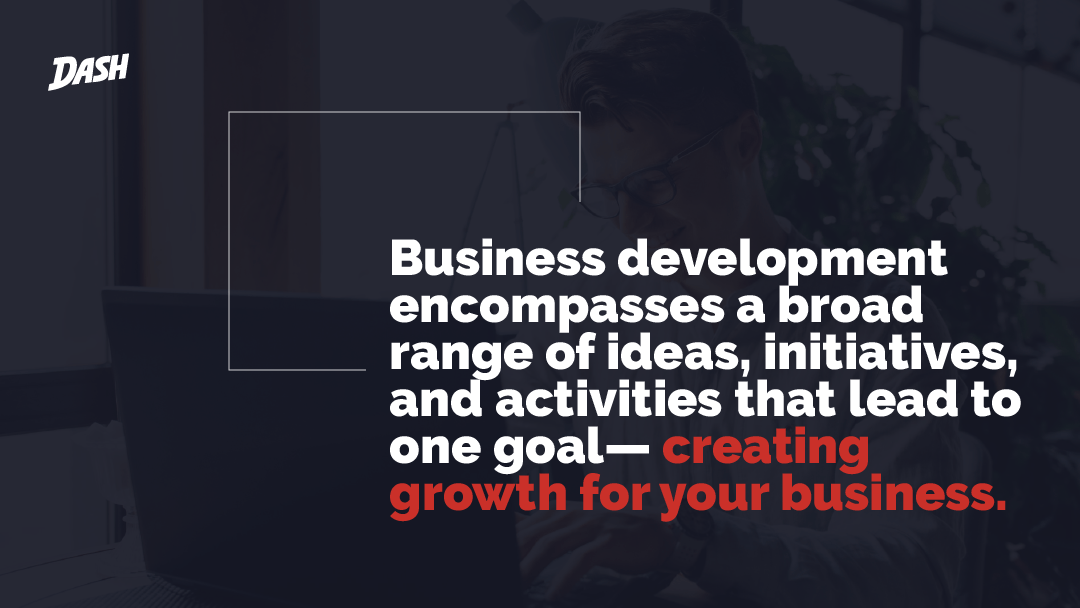 In reality, a singular business development definition simply doesn't exist. That's because, in practice, the process can affect every department within a business, focusing on multiple objectives, including expansion, sales, and increased profits. With current sources of revenue in mind, a good business development plan lays out a strategy for uncovering new market opportunities and growth possibilities.
In this guide, we'll walk you through what business development means for your professional services organisation, how it supports sustainable growth, and the role your digital strategy plays in supporting business development.
What Does Business Development Mean?
Ask a dozen "VPs of Business Development" what their title means, and you'll likely get just as many definitions. Some say they're focused on sales; others talk about strategic partnerships and alliances or start-up plans. Here's the truth: business development is a complicated and fascinating discipline that, done right, helps your professional services organisation gain new customers and sell additional services to existing ones.
The basics of business development remain constant from business to business and industry to industry, driven by and aligned with each organisation's goals. Here's what it might look like if, for instance, you offer specialized accounting services.
Your sales team would focus on a particular market or set of clients in another market area and begin to target that new customer base.
To support your sales expansion efforts, you might increase marketing dollars to allow for more aggressive tactics.
Strategic partnerships with other firms already operating in your desired market might accelerate and improve your chances of breaking in.
Are you looking to have a physical presence in a new location? Project management will make cost and time-related assessments.
Does your plan include adding services that require new third-party vendors? Vendor management works out the details.
Your financial management people might look for ways to reduce or cut costs, including limiting travel and outsourcing tech, customer service, and marketing.
Ultimately, here's what truly matters: what does business development mean to you? For most professional services organisations, a business development strategy is about attracting prospects, building engagement, and turning opportunities into clients. There's no cookie-cutter approach to achieving your growth goals, but a good business development professional can help you quickly identify possible new sources of revenue and increase profitability.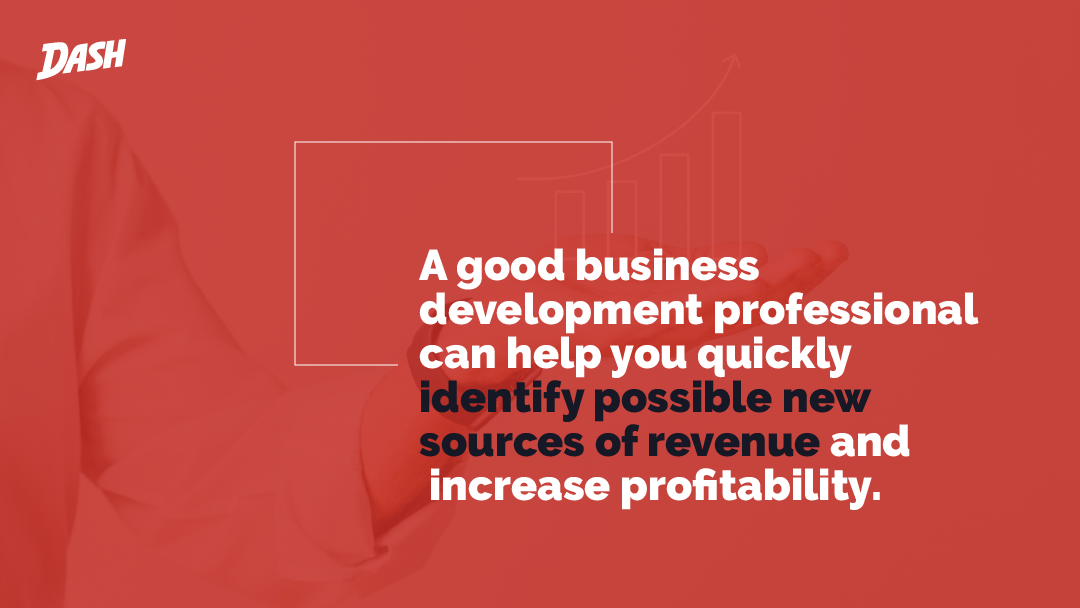 The Role of a Business Development Professional
Business development managers, VPs, and executives possess a full arsenal of skills in sales, project management, communications, negotiation, data analytics, and marketing. While all good business development professionals know how to sell, they also have a keen interest in marketing. Because if you want to grow your customer base, you've got to understand how to best position, price, and generate demand for your services.
Basic skills every business development pro should have or work at developing include:
Creative Skills
From imagining how to develop new opportunities to discovering completely new marketing avenues, creative thinking is essential for the role.
Analytical Skills
Even if you can 'see the matrix' and generate fresh creative growth ideas, the ability to collect and present data to support your ideas and get buy-in from stakeholders is vital. Researching and providing clear insight into what makes financial and commercial sense to pursue is needed. A comprehensive understanding of the wider market is also essential if viable opportunities are to be proposed, developed, and realized.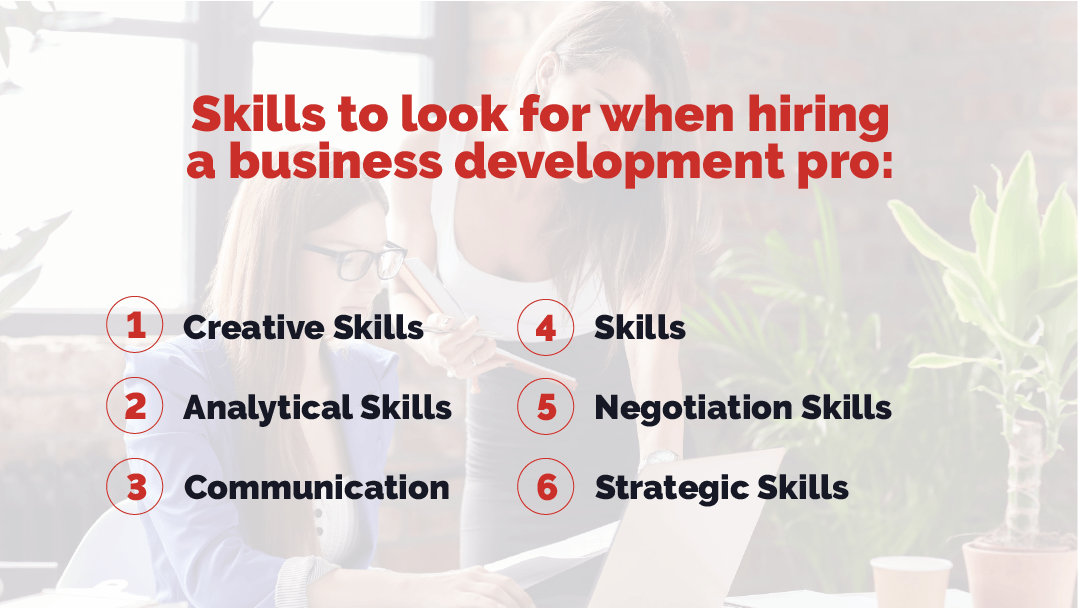 Communication Skills
It's a singular position, but business development is a collaborative effort. Support from senior management, finance, sales, and marketing teams is required, as is the ability to persuade others to invest in or partner with your organisation.
Negotiation Skills
Good communications get a foot in the door, but it's negotiation skills that ensure those opportunities lead to future growth.
Goal-focused
Penetrating new markets rarely happens overnight. A good business development professional may be able to pull in quick wins to meet objectives and targets but must excel at pursuing a long-term strategic vision, all while remaining flexible enough to adapt quickly to changing demands or unexpected opportunities.
Strategic Skills
It often takes months, if not years, to nurture and develop growth opportunities. Analytical skills, project management talent, critical thinking, and decision-making skills are only a few of the traits needed to keep enthusiasm high, expectations realistic, and results attainable.
What Is a Business Development Strategy?
In simplest terms, a business development strategy is your plan to create growth opportunities. That may seem broad; however, it pays to keep in mind there are only three ways to grow a business:
Increase the number of clients
Increase the value of each client purchase
Increase the number of times a client buys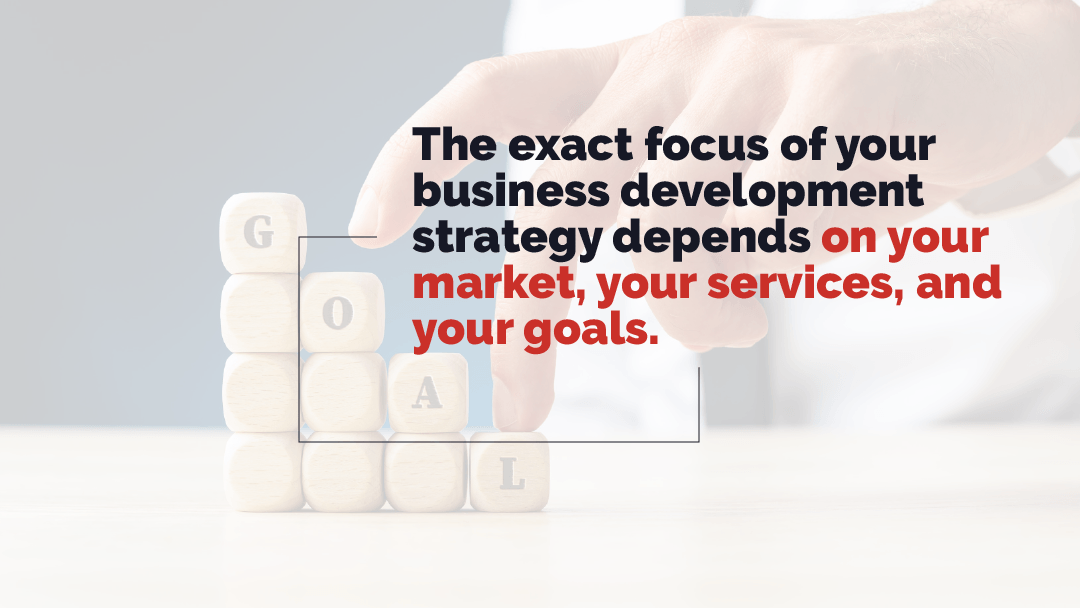 Now, there are many ways to accomplish these three growth objectives, and opportunities can be found in a myriad of areas, such as:
Networking
Events
Publishing
Advertising and sponsorship
Partnerships, joint ventures, and strategic alliances
Speaking
Public relations
Lead nurturing
Referrals
Packaging and pricing offers
The exact focus of your business development strategy will depend on your market, your services, and your goals.
Whether you're attending networking events, publishing content every day, or sponsoring a local football team, here's what to consider for whichever approach you choose:
Talk about the problems you solve, not the services you provide.
Talk about how your business works with clients to solve their problems.
Talk about the benefits a customer realizes, not what you do.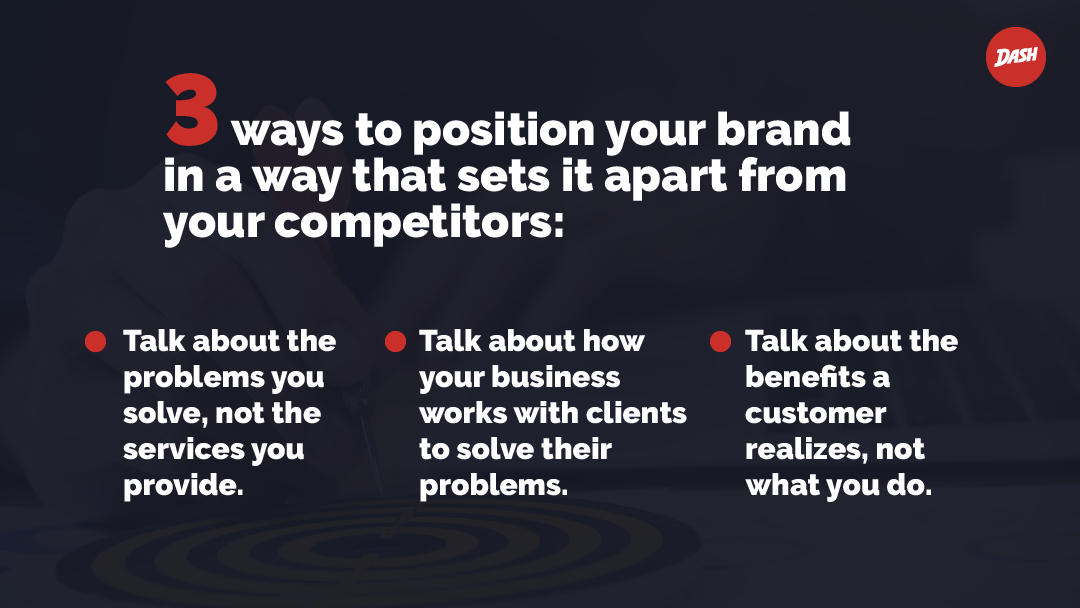 In this way, you position your brand in a way that sets it apart from your competitors.
How Business Development Supports Growth
Business development is the thread that ties together all your organisation's functions and uses them to expand and improve its offerings, sales, revenues, and profits. It helps you build meaningful relationships, lower costs, align your brand with target buyers, and open up expansion into new markets.
What's the Difference Between Business Development and Marketing?
It might seem like there isn't much marketing and business development have in common, yet both functions must work in sync to achieve the goal of growing your business.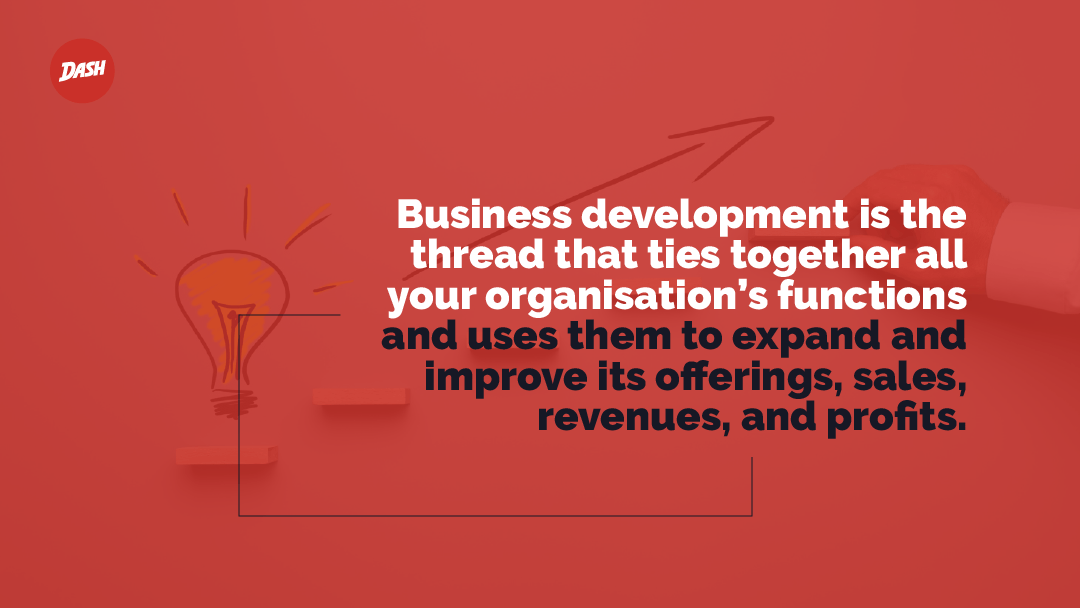 Marketing focuses on promoting your brand and establishing its market presence using the "7 Ps" of marketing: product/service, price, promotion, place, people, process, and physical evidence. It then uses various tactics like content marketing, advertising, and public relations to generate awareness and opportunities for your brand. One of the key crossovers between marketing and business development is lead generation, a performance indicator that opportunities are being created.
Business development requires continual lead nurturing. To get and build relationships with leads, you use different marketing strategies and tools like inbound and outbound marketing, content, and social media campaigns.
In other words, marketing focuses on determining which services you'll offer to different target audiences, and business development looks for ways to acquire new clients and grow client accounts.
Many professional services organisations consider business development and sales to be the same thing, usually to avoid the stigma attached to aggressive sales tactics. But a true sales function involves converting leads or opportunities into new clients. Business development, on the other hand, is a broader practice that encompasses far more activities.
Digital Marketing in Business Development
If marketing is a distinct function to business development, what role does digital play in supporting your firm in creating growth opportunities?
Strategically, you need to consider how digital tactics and tools (as part of your wider digital strategy) will support the focus of your business development. For example, let's suppose a major focus of your firm in attracting new clients is attending events frequented by your target buyer (generating leads). Then, a combination of your CRM, marketing automation, lead scoring, and email campaigns could:
Ensure every lead is documented and followed up, and every interaction is recorded.
Accelerate how quickly a prospective client relationship is formed.
Keep your firm top-of-mind, without your team having to manually contact the person.
Personalise the experience and make compelling offers, at the right time, based on the lead's interaction with your firm.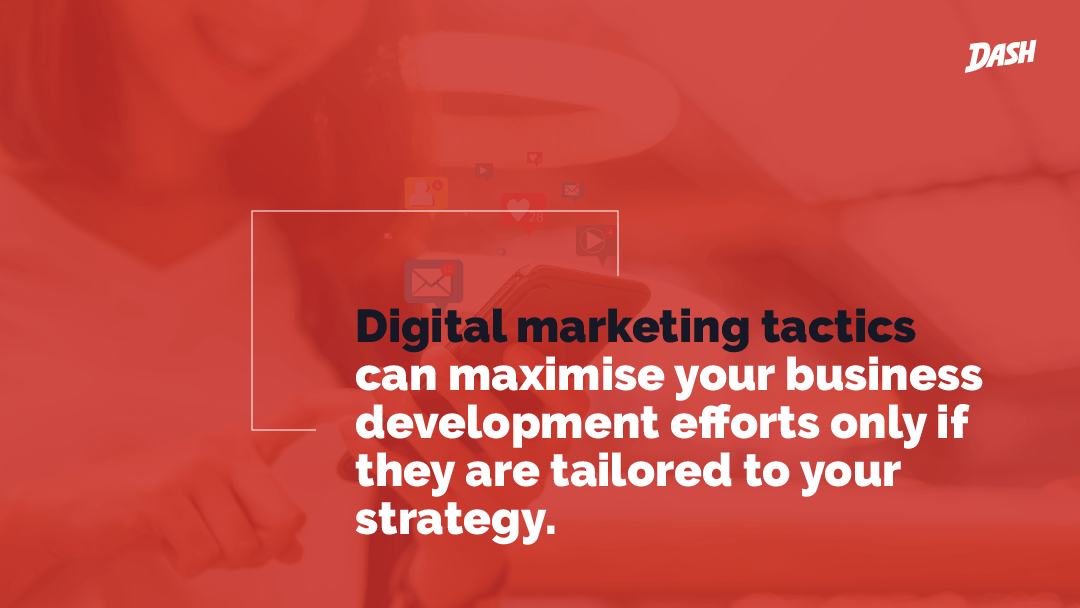 The implications for how digital marketing tactics can maximise your business development efforts are wide and varied and must be tailored to your strategy. Begin with thinking about how your firm would use (or improve) the following to bolster the business development activities you're already doing.
Website content and opt-in content upgrades
Email campaigns
Pay-per-click (PPC) advertising and remarketing
Reviews and online reputation management
Social media content
Lead segmenting
Lead scoring
Marketing automation
Usage tracking and analytics
Business Growth Strategies for Professional Services Organisations
It's clear the avenues to creating growth opportunities for your professional service firm are wide and varied. Different things will work for different businesses, and there isn't one "right way" for every firm. Here are five of the most commonly used strategies.
Professional service organisations can gain greater market penetration by offering more services to the same clients. You might be surprised at how many of your current clients aren't aware of your full range of services.
You can develop new markets by introducing your existing services to new audiences.
By developing alternative channels for distribution, you expand your reach. Typical channels are business groups and trade associations, but you could also partner with non-competitive but complementary service firms.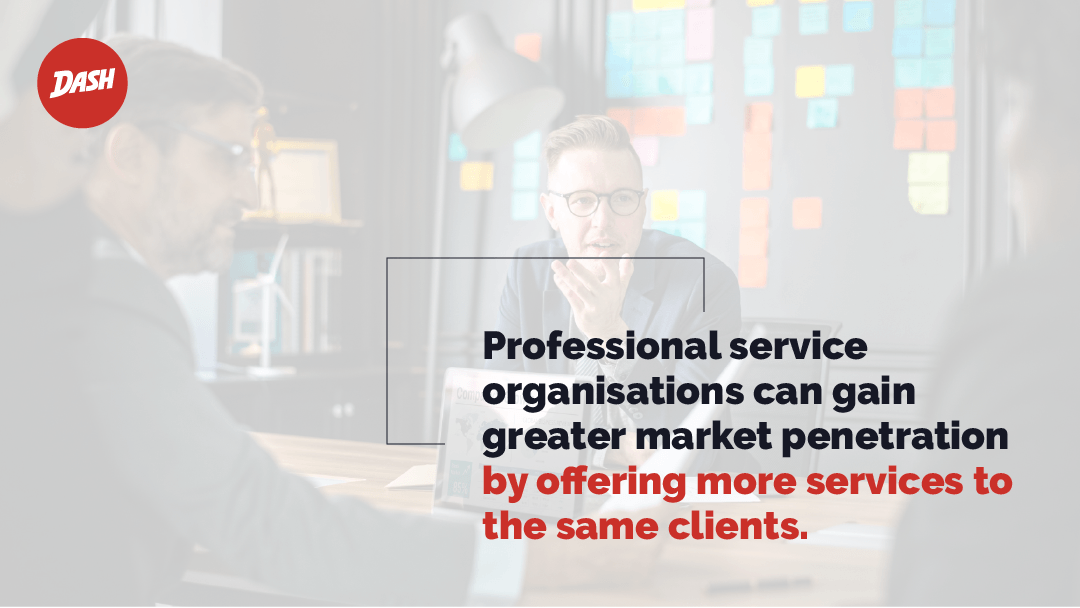 Creating new service offerings is a more risky approach, mainly due to the time it takes to develop and launch new services. However, if a new service can make you more valuable to your existing market, the resulting position can be a formidable differentiator.
Perhaps the riskiest growth strategy, selling new services in new markets not only faces the challenges of developing and launching new services, but also the uncertainty that comes with a new target buyer. However, the long-term benefit of carving out a 'blue ocean' niche for your firm can be worth it.
Finding New Ways to Grow
Business development is a powerful way to grow your company. To succeed, it requires extensive planning, preparation, and communication. Of course, as valuable as it is, business development cannot achieve goals alone. It must work closely with other departments in your company as well as third-party providers like digital marketing firms.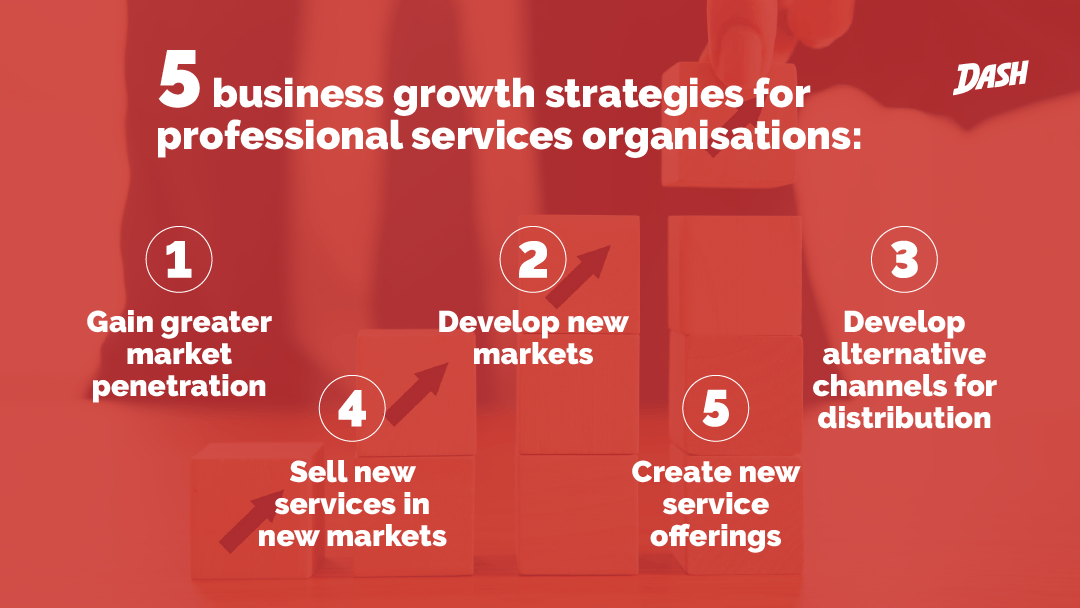 Marketing-related business development tactics like digital ads, search engine optimization, updated websites, and social media networking, are all employed by high-growth professional services organisations to attract and convert new clients.
Ultimately, every professional service firm must figure out how to use business development to identify and capitalise on growth. Most organisations have existing relationships and referral sources they can use to get started. However, without a formal business development plan, growth can be sporadic. A clear business development plan allows you to align your marketing and sales strategies and service delivery functions to both leverage the resources your business already has and generate new opportunities for growth.
To learn more about accelerating your business development through digital marketing for your professional services firm, schedule a call with us today.